Cite this page: Palpation thyroiditis. PathologyOutlines.com website. http://pathologyoutlines.com/topic/thyroidpalpation.html. Accessed February 20th, 2017.
Definition / General
Common (85%+ of surgically resected thyroids) but clinically insignificant
Terminology
Also called multifocal granulomatous thyroiditis
Treatment
Self limited, no treatment necessary
Gross Description
Normal, or small foci of hemorrhage
Micro Description
Multiple small granulomas centered in disrupted follicles, composed of lymphocytes (usually T cells), macrophages (some foamy), occasional multinucleated giant cells associated with colloid breakdown, usually no necrosis, no neutrophils
Micro Images
Images hosted on PathOut server:
Courtesy of Andrey Bychkov, M.D., Ph.D.
Granulomatous folliculitis
Multinucleated giant cells replacing colloid within follicle
Images from AFIP:
Histiocytes within follicle #1
#2 - histiocytes are strongly lysozyme+
Images hosted on other servers: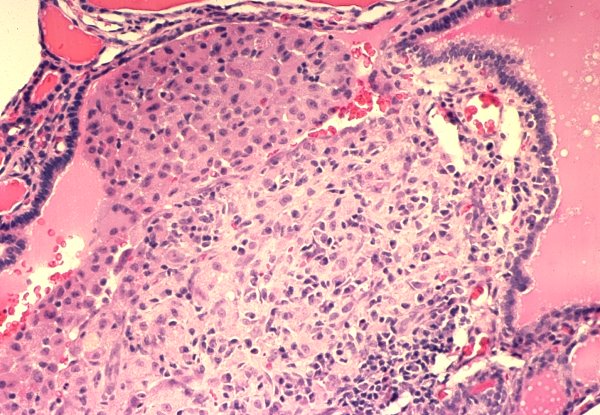 Granuloma